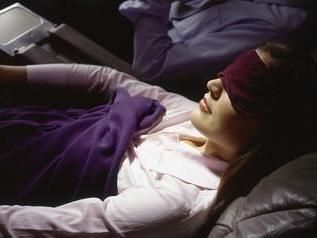 Red eye flights are so-named for the red eyes people sometimes get when they are tired. These are flights that leave after 9 or 10pm  and usually travel through the night, arriving by 5am. Due to the low demand for flights at that time, tickets can often be purchased at discounted rates. To find red eye tickets, you will need to visit the website of the airline you wish to fly on. When you are making your reservation, there will be an option to specify the time you would like to leave (e.g.: morning, evening, after 10pm). Choose the latest time and view the rates. To be certain you are receiving the cheapest fare, it is important to compare the prices of other airlines and other dates. You also have the option to book red eye flights by phone, if you prefer that. Simply ask to be booked on a nighttime flight. Comparison-shopping of various airlines via phone will guarantee you the best price.
Red Eye Flights To Las Vegas
Flights to Las Vegas can be expensive, but one way to find a cheap ticket is to book one of the red eye flights that are available. Because of the time differences, the majority of red eye flights head from the west coast to the east coast. Because of this, if you are traveling from California or the surrounding area it may be easier for you to find a late night flight to Las Vegas than it would be if you were leaving from an east coast state like New York. On the flip side, people from east coast states would find it easier to find a returning flight that was after 10pm than those returning to the west coast. Regardless what direction you are coming from, by comparing prices, you may find it is a cheaper option for you top purchase separate tickets, one on a red eye flight, than to book a roundtrip airfare.
Hawaii
Due to the increased distance, it is well known that flights to Hawaii are among the most expensive of flights throughout the fifty states. This is why red eye flights are a good option that will give you a cheaper ticket. But low cost is not the only advantage to these flights. There will be fewer people at the airport, since the majority of flyers travel in the daytime hours, so your check-in will go much quicker. Also because of the lower number of fellow travelers, you are more likely to have a seat or two beside you that are empty; allowing you more room to stretch out and keep your belongings. You could also avoid the possibility of sitting next to a chatty passenger this way.
Washington DC
Washington DC, as our capital city, is a popular tourist destination. Flights to and from can be both expensive and crowded, so traveling during the nighttime can help you avoid both hurdles. Since it is on the east coast, you will be more likely to find a red eye flight available, no matter where in the country you are traveling from. Another advantage of red eye flights is that those flights that travel late at night or in the early morning are usually on time, since there is less air traffic at those times.
Europe
Regardless when you leave, a flight to Europe will likely have you sleeping on the way. These flights can last eight hours, ten, twelve, or even longer, and there is only so much you can do to entertain yourself. It makes sense, then, to purchase a ticket on one of the red eye flights there and back, to save money and time. To help adjust yourself to the time difference and avoid jet lag, it helps to sleep on the plane but stay awake the entire next day.